The E-Vidya Intensive Advanced Learning Workshop Series is going online.
[ Limited number of free passes available for full-time students who are registered users of E-Vidya website. ]
Turn Work-from-Home restraints into a great learning opportunity for technology professionals and students.
Through live videoconferencing and online presentation.
Same instructors, same presentation quality, coverage, duration, and impact as in the classroom based workshops, now accessible over the internet to everyone aspiring to learn the top deep technologies that are going to rule the 2020s.
Academic rigour. Industrial lucidity.
On popular demand, the inaugural online E-Vidya workshop will be a repeat of the condensed 1-day workshop on Artificial Intelligence & Machine Learning which was held in classroom mode last year in Bengaluru (organized by the India Electronics and Semiconductor Association). All interested participants from other cities who could not attend the workshop in Bengaluru can now access the same experience without having to wait indefinitely for a classroom experience.
Participant feedback and instructor's reflections on previous sessions of this workshop are available for reference.
The workshop schedule and format have been redesigned to suit an online live delivery mode. The online workshop will be delivered in 3 sessions distributed over 3 days.
The attached brochure below provides the details.
Workshop Details
Subject: Artificial Intelligence & Machine Learning
Type of Workshop: Condensed overview and deep dive into key topics
Mode: Online live presentations with slides and interactive discussion through videoconferencing
Instructor: Dr. Chandan Haldar
Duration and Format: Total 9 hours, in 3 sessions of 3 hours each, everyday from 3 PM to 6 PM IST
Dates: Thu 14 May 2020 - Sat 16 May 2020
Registration
Registration will open from 13:00 IST on Fri 08 May 2020

Registration will remain open till 13:00 IST on Thu 14 May 2020 or until all available participant slots are filled
Registration link will also be emailed to registered users of this E-Vidya website.
Seats are limited.
Instructor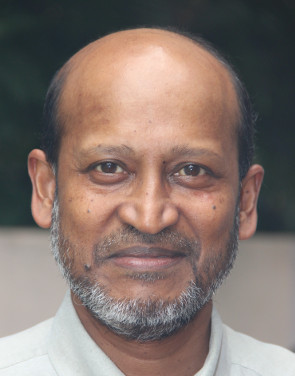 Dr. Chandan Haldar is an applied computer scientist and an industry leader with several decades of research, development, and management experience in top academic institutes, global computer corporations, and deep technology start-up ventures. He is alumni of IIT Kharagpur, IISc Bangalore, and the London Business School, with expertise in AI and ML, Parallel and Distributed Computing, Functional Programming, and Embedded and Edge computing.
Dr. Haldar is CEO of Morphing Machines – leading the development and market strategy of the path-breaking REDEFINE™ scalable power-optimizing reconfigurable massively parallel processor architecture and many-core SoC platform and data-flow computing driven accelerators for AI and Machine Learning and other High-performance Computing applications. He is also Chief Scientist at Terra Incognitus Systems Research Alliance (TISRA™) – a private research and development laboratory for deep technologies and breakthrough systems and software solutions. E-Vidya is a TISRA project.
Content and Structure
Session 1. In the opening session, we begin with a wide ranging introduction to the history, context, and landscape of Artificial Intelligence and Machine Learning and their applications and place them in the context of the current hype in the market. We cover selected mathematical and theoretical computer science topics that form the computational foundations of AI and ML. A variety of search and optimization algorithms surveyed and explored as key models in classical algorithmic AI.
Session 2. This session takes us through a variety of nature inspired models and algorithms for intelligent behaviour. We take multiple deep dives into the foundations of machine learning, supervised and unsupervised learning models, neural networks, deep learning networks, and a variety of widely used and effective neural architectures including CNN, RNN, LSTM, and entropy based networks, followed by learning methods including reinforcement learning, competitive learning, and transfer learning.
Session 3. The final session takes a rapid overview of a variety of AI applications including text, speech, image, and video processing, object and face recognition, data and time-series analytics, robotics, autonomous vehicles, etc., followed by survey of AI tools, APIs, datasets, and software platforms that are most widely used in the industry, issues and directions in high-performance AI and ML including the use of multi-core CPUs, many-core GPUs, FPGAs, and new generation parallel computing hardware accelerators. We review the key challenges and limitations of AI, issues in ethical AI, explainable AI, and dangerous AI, recent directions in edge AI and IoT, and other emerging technologies, and finally conclude the session by reviewing practical career prospects and job opportunities in AI & ML.
Objectives and Take-aways
To gain broad insight into the AI & ML landscape beyond the market hype
To gain good understanding of the architectures, algorithms, platforms, APIs, and libraries for AI & ML solution development
To gain good understanding of AI & ML application domains and challenges
To gain pragmatic understanding of career prospects, current and emerging opportunities in AI & ML.
Who Should Attend
Working technology professionals seeking to enhance their understanding of AI & ML
Graduating students or recent engineering graduates aspiring for careers in AI & ML
Team leaders and managers of industry projects that relate to AI & ML
Senior managers and business leaders seeking a rapid yet lucid overview of the vast AI & ML landscape
Anyone seeking deep literacy of AI & ML and the professional and business opportunities that they open up.
Prerequisites
Knowledge of basic undergraduate level science and mathematics is required
Familiarity with core computer science subjects is an advantage
Programming, solution development, or other relevant computing industry technical experience is an advantage
Some of the content may challenge participants with no background in computing or information technologies.
Ask E-Vidya
Join the E-Vidya Workshops Channel on Telegram for announcements, alerts, and notifications regarding E-Vidya Intensive Advanced Learning Workshops.